Workshop duty 8" tsjil en 2" × 48" riem grinder sander
Produkt Detail
Produkt Tags
1. 3 / 4hp ball bearing swiere duty induction motor omgean jo swiere workshop banen;
2. Giet izeren basis en riem frame foar lege trilling en lange libben wurken;
3. Kombinaasje riem en grinding tsjil past foar mear grinding / sanding applikaasjes;
4. Folsleine riem wacht mei stof samling haven foar stof frij wurk gebiet.
5. Riem is ferstelber foar gebrûk yn fertikale of horizontale posysje.
6. CSA sertifisearring
1. Stofsamling Ports
Stofpoarten ferbine mei stofslangen mei tank oan de ynbegrepen adapter.
2. Ferstelbere wurktafel
Befredigje de eask fan ferskate hoeken fan wurkstik.
3. Sanding riem kin brûkt wurde oprjochte of flak
Moetsje ferskillende gebrûksposysje, brûk handiger.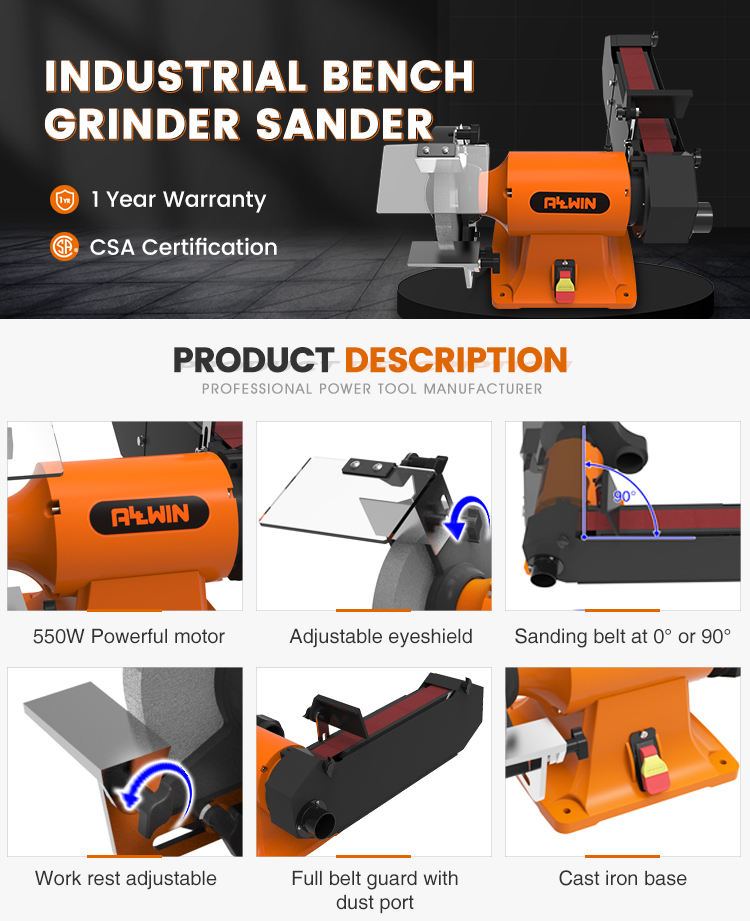 | | |
| --- | --- |
| Model | CH820S |
| Dry tsjil grutte | 8*1*5/8 inch |
| Riem grutte | 2*48 inch |
| Girt | 60# / 80# |
| Tafel tilting berik | 0-45° |
| Riem ferstelber | 0° of 90° |
| Basis materiaal | Gietijzeren basis |
| Stof kolleksje | Beskikber |
| Motor snelheid | 3580 rpm |
Netto / bruto gewicht: 25,5 / 27 kg
Packaging diminsje: 513 x 455 x 590 mm
20" Container lading: 156 st
40" Container lading: 320 st
40" HQ Container lading: 480 pcs
---
---
Skriuw jo berjocht hjir en stjoer it nei ús